Everyone will love our cute, furry friends right at your daycare or senior care center!
On-site learning – no need for a field trip
For children we read a story, sing a song, or play a game involving the animal of the day. Then bring out that animal for all the kids to see and pet. No mess-we clean up everything, if necessary. Each child will receive a coloring page to take home about the animal of the day. Enrichment programs attract parents and help fill your daycare with kids!
Lessons / Therapy Sessions includes:
Rabbit
Pig
Goat
Lamb
Hen/Rooster
Miniature Donkey
Miniature Pony (rides too!)
and special surprise animals too!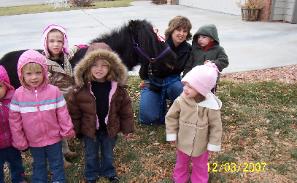 Special: Chicks & Ducklings for Spring!
Contact Deanna today to sign up now!
970-566-2193 or click on the "Contact Us" link
*Monthly Animal Visits*
Farm Enrichment Program Rates
Only $35-$45 per 30 minute lesson
(Depending on class size & location)