Pony Rides
Yes, miniature pony rides and cart rides at your front door!

Imagine how excited your child will be to see that their wish had come true!  A pony at your home!
Mobile Pony Ride or Cart Ride Rates
Either Pony Ride or Cart Ride: $200/hr
Both Pony Ride & Cart Ride: $350/hr *SAVE $50/HR by booking combo pony rides/cart rides
(trip charge additional fee if outside Ft. Collins area)
Petting Zoo: $250/hr
Petting Zoo & Pony Ride: $400/hour
Petting Zoo & Cart Ride: $400/hour
All 3 services (Pony Ride, Cart Ride, and Petting Zoo): $550/hr
What's Included With Mobile Pony Ride or Cart Ride
Early arrival to set up for party
One pony with cart or saddled pony
Clean-up after animals.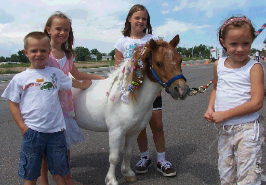 The kids can have fun brushing, braiding, petting and even fixing the ponies up with pretty ribbons and bows! PLUS- a real live "MY PRETTY PONY"!
Guaranteed smiling children!
****Call and reserve your party date today! (Deposit required)****
---
Field Trips: Schools, Churches, Corporate Events, Daycare Centers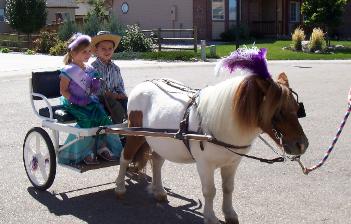 We can bring the miniature ponies for brushing and petting as well as giving pony cart rides for adults and children alike. Combine with petting zoo to entertain a larger group. We are just 10 minutes North of Old Town Fort Collins. We have experience setting up on school lawns and educating children about animals, providing animals to Vacation Bible School programs and nativity scenes, giving pony cart and horse rides at Community Carnivals and helping our youth with local fund-raising events. Let us make your event one-of-a-kind! Field trips to our farm are fun and educational.
2019 Field Trip Rates
$10/child
5 child minimum
Includes a pony ride
---
Farm Birthday Parties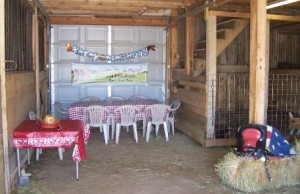 We'll provide the animals, feed, cute barn setup, and games — it's a special gift for the birthday child!
Basic Party allows everyone to…
Enjoy the BARN experience and feed Petting Zoo Animals, See horses, spend hands-on time with all the barn animals (donkeys, goats, lambs, rabbits and ponies), do fun cowboy activities, and play stick horse barrel race game!
Basic Party Pricing At Our Farm
2019 Farm Party Rates
Option 1: $200 minimum

1 hour
LIMIT 8 children- $5/extra child
Add time/activity by choosing from options below

Option 2: $250 **Most Popular

2 hours long
Includes up to 8 kids – $5/child after 8
Basic party at our farm with two activities chosen from options below
Party Add-On Activities At Our Farm
My Pretty Pony Activity: add $25                                            (Brush a real live mini pony's mane and tail, braid & decorate with ribbons and bows!)
Pony Cart Rides: add $25 (+30 min)
(includes one pony and cart for taking turns riding in)
Horseback/Pony Rides: add $25(+30 min)
(includes one horse for taking turns riding on)
Pay half of your party at time of booking to reserve your spot. Balance due day of party. Call and book your farm party, mobile petting zoo, or field trip today!